Hello!
We're so excited to be a part of Jane Meets Tanner. As future working women, we believe there is definitely a place for women in the business world. So many people (at BYU especially) are so set in their ideas about which majors girls are "supposed" to do. Hopefully this blog helps to combat that stigma.
Today, we're here to offer some tips on dressing in the workplace and answer some questions!
Q: Where do you pull outfit ideas from?
A: Being a part of the fashion blogging community, we definitely pull inspiration from other bloggers. We also pay attention to trends we see on campus, and try to incorporate them into our own outfits. Another major source of outfit inspiration is Pinterest! If you are ever in dire need of outfit ideas, Pinterest will never let you down.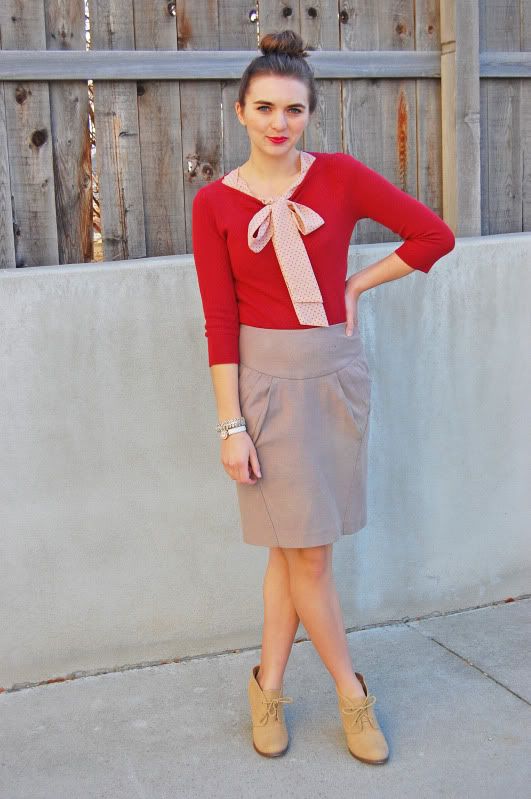 Bow blouses are a great alternative to the classic collared shirt! Perfect for a business casual environment.
Q: What trends are you loving right now?
A: We're loving the fact that bright colors are back in! This spring is all about bright, pops of neon. This is also a great way to spice up a drab work outfit. But remember that pops of color are to add interest, not to be loud and distracting. Use it sparingly in a statement necklace or small accessory for just the right amount of pizazz.
If your workplace is a little more conservative, a classic collared shirt and skirt look can be livened up with a statement necklace and colored tights!
Q: Any other suggestions for business wear?
A: Well first of all, our advice is to remember that business wear doesn't always mean boring wear! Like we said earlier, colors can be incorporated as long as they're not too over-the-top. Instead of a black pencil skirt, try a cobalt blue or a kelly green. Instead of a plain white shirt, try a printed silk blouse. We also recommend investing in a great pair of tailored trousers and a blazer. Whatever you wear, make it apparent that you put effort into your overall look. Always make sure your clothes are clean, ironed, and fit well. Also, we are strong advocates of tucked-in shirts. Not only will it make you look more refined, but it also gives you a slimmer waistline! Who doesn't like that?
Don't be afraid of prints! This leopard print is subtle enough for the workplace, but also makes this look a little more fun. Also, blazers are a must-have staple in any closet.
Q: Is there any fashion "don't" you would suggest girls avoid when trying to dress up for the business world?
A: While we think it's important to be fashion forward, you'll want to avoid looking TOO trendy. The most important thing is to remember you are in a professional setting in which you are required to make a good first impression and to have people take you seriously. You want to look modern, but not like you just came from the dance club. Another "don't" is something that is advantageous to us BYU students. Don't be dressed immodestly in the workplace. Avoid plunging necklines and short hemlines. Another thing is too pay attention to how tight your clothing is. Just because it covers everything, doesn't always mean it's not showing everything... If you know what we mean.
Statement necklaces always look great paired with a silk collared blouse. Pair it with a pair of black skinny pants and nude heels and you got yourself a modern twist on a classic business outfit.
We hope all these tips gave you some inspiration! We know dressing for the workplace can be a little daunting, but remember to just be confident in what you wear.
Big thanks to Jane Meets Tanner for having us, and good luck to all of you entering the business world!
xoxo
Lauren and Madison